To understand what we are looking for, you need to understand what a TROPE is first. A romance trope is a character, plot, or theme that is incorporated throughout the book. For example: Sports romance Trope – book with a character who is an athlete.Office Romance Trope – themed around a relationship that is developing in an office setting
​
Here is a list of popular tropes within romance:
Alpha Hero, Arranged Marriage, Athlete (Baseball, Hockey, Football, etc)
Military, Billionaire, Office romance
Friends to Lovers, Enemies to lovers, Cowboy
Firefighter, Policeman, Gay
Fake Engagement, Love Triangle, Marriage of Convenience
Single Dad, Politics, Celebrity
College, Hot Nerd, Blue Collar
Musician, Bad Boy, Romantic Comedy
Neighbors, Stepbrother, Medical
Teacher, Farmer, Priest (Scandalous, we know)
Businessman, Royal, Bartender
ETC . . .
​
Some examples are below.
​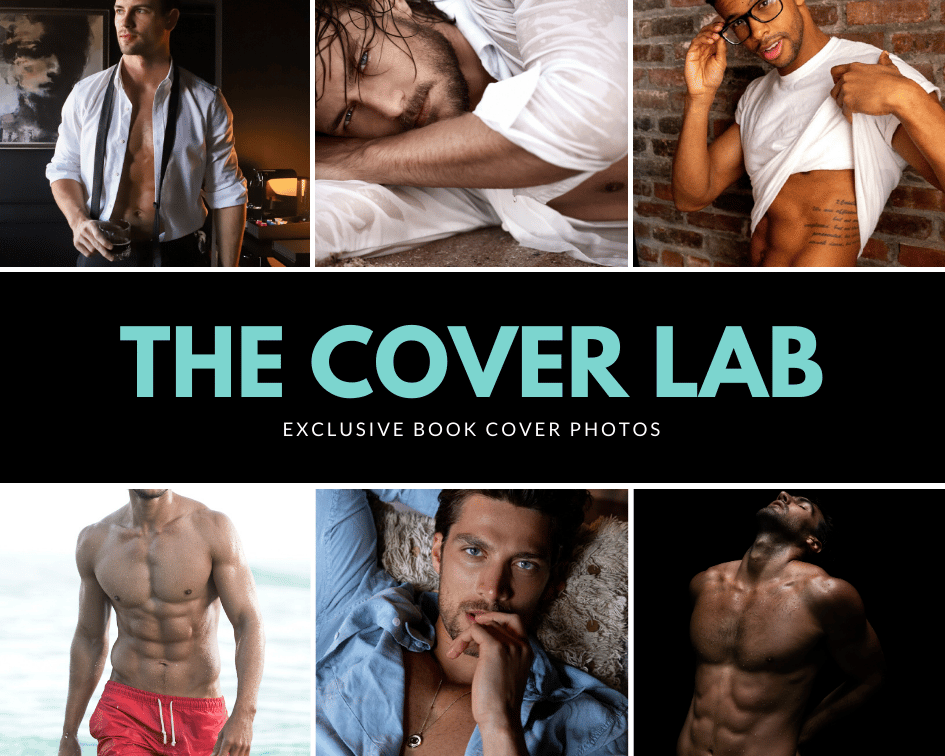 ​
What does this all mean?
We want - - > HOT MEN! HOT BODIES! HEADLESS HEROES! ROMANTIC COUPLES!
Headless hero = Pictures cropped from chin down. We have A LOT of authors who don't show faces on covers. For these images, just change up the pants, poses, props, backgrounds.
​
Need some examples?
Check out our website (hasn't launched publicly yet) www.thecoverlab.com Password: Oluing
​
To break it down . . .
We are looking for a variety of pictures. We would love to offer MORE than just the classic posed shot. We are looking for those of course, but we would really like to be able to offer creativity as well with different sets and backgrounds. Outdoors, indoors, in cars, on sports fields, etc.
​
OUR SUGGESTION:
Take a look at the tropes, and the below list of suggestions, plan out shoots with different models with changes of clothes and poses and just start snapping pics. Don't feel like you need to use props, just the model's face works. Just him in a shirt, slightly lifted to show stomach. Just him on a single stool, chin up, a cocky attitude. Just him removing his shirt. Just him leaning against the wall. You get the idea. The focus is on him, make him as hot as possible.
​
Couples are a hot ticket item for romance covers. These don't have to be sexy, just romantic. Her in a dress in a field, him holding her hand. Her being picked up, their foreheads connected. The classic almost kissing pic. Think romantic and airy. No nudes.
​
Headless Heroes are a pinnacle of romance. Think abs, abs, abs. But also don't be afraid to make another body part the center of attention. There is such a thing as forearm porn and back porn. Don't be afraid to show it all off (no nudes). Headless heroes are headless (as in don't include their face in the picture), shirtless, and ripped.
​
We also would love to sell any pictures you've already taken (that have not been featured on book covers before, or similar to an image sold before), but if you're looking to add to your collection to sell, check out the suggestions below.
​
CAUTION: We are in the business of selling EXCLUSIVE cover photos, which means once the picture has been used or sold, it can't be sold to anyone else. Consider the picture was set on fire. If you try to sell a picture that has already been used, we will no longer be working with you. Same models are fine, same picture is a no no. Same shoot, be cautious, the pics must be very different than previously sold. Exclusive, exclusive, exclusive.
​
CLOTHING
(No logos)
Business attire
Jeans and t-shirts
Sweaters
Trope attire (men in uniform, athletes, etc)
Button ups (open and closed)
Shirtless
Everyday men's wear
Athletic wear
Sleepwear
Underwear (no nudes)
Robes
​
ACCESSORIES
Any prop that would fit with the trope (glasses, hockey stick, expensive watch)
Hats
Tattoos (show them off if you have them)
Cars
Women (you don't have to show her face)
Pets (please be kind to the animals)
​
HAIR/FACIAL HAIR
Styled
Messy Styled
Man buns
Mohawks
Beards
Scruff
​
SETTINGS
(Get creative)
Solid backgrounds (these are great, but we really want to see a variety)
Beds
Outdoors (fields, rustic, woods, industrial, etc)
Indoors (around the house, industrial, kitchens, etc)
Brick walls
Couches
Offices
Stools/Chairs
Pools
Beaches
Cars/Trucks
Bars
Sports fields